Home

DentMeister are the mobile car dent repair specialist you should contact if you are in the north west of England. As a mobile dent specialist, if you live within Cheshire, Greater Manchester, Merseyside or even Lancashire then we will come to your home or place of work and repair minor accident damage on your car. Plastic bumper's can be repaired by the meister also along with minor touch-up's on chips and scratches too.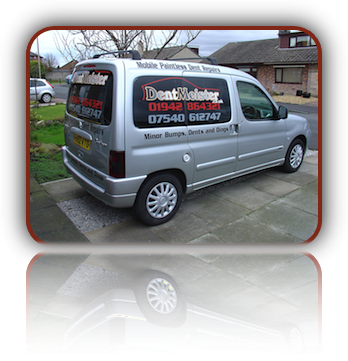 What is Paintless Dent Removal and how does it work?

Paintless dent removal (PDR). A unique method of removing dings and small to medium size cosmetic dents in metal vehicle bodywork, to leave an invisible dent repair, as if it was never there. A series of bars and rods are used to massage the dent from behind and tapping the surface down to level the area out until the dent has been removed. Trained to the highest of standards and use all the latest techniques and tools of PDR.
What can be achieved by DentMeister?

The type of dent repairs that can be achieved is extensive but not infinite! The size, shape and location of a dent all determine what can and can not be repaired via the PDR method. Most small dents of 1-2 inches or light creases of around 1-2 inches can be repaired 95% to 100%. Medium dents of 2-4 inches and larger creases can, in many cases can be repaired to around 90% or more. But to most eyes this still looks like 100%.

For large dents and deep creases the success rate is more limited, these can be tackled and in many cases improved to leave a far less noticeable blemish. Factors such as metal stretching or paint cracking are common reasons for PDR not to be carried out. DentMeister's technician will give you a good estimate of the improvement achievable upon inspection of the vehicle

PDR restores your car back to its original factory finish avoiding paint colour mismatches. PDR uses no chemicals or paint and so does its bit for the environment.

DentMeister decided it was beneficial to make the general public more aware of this green technology. This technology enables dent technicians to remove dents from panel's on a vehicle without any harm to the environment because we can remove the dents without re painting the panel or using any body fillers. This method also makes it more cost effective than traditional dent repairs.
Warrington, Frodsham, Chester, Rainford, Leyland, Worsley, Stockport, Altrincham, Wilmslow, Knutsford and any area in between